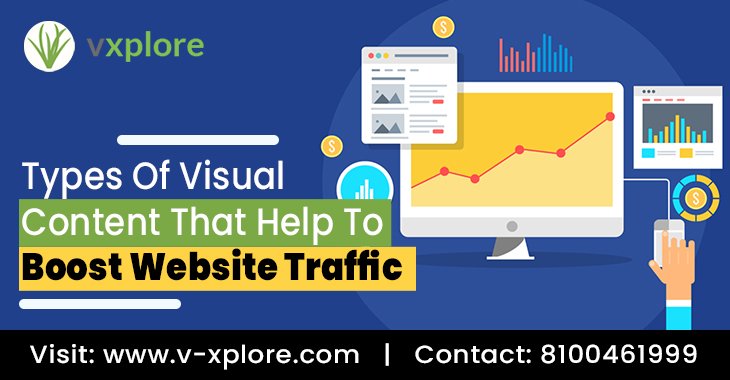 Whether you are working as a content creator or content writer or content marketer, you love to create content. If you are an influencer or a blogger or a YouTuber, then you must know that audiences love to consume content. So, how about creating visual content more to boost the SEO Services of your website? In this blog post, we will know it better.
Vxplore Technologies can help you to create valuable visual content that will boost your traffic. They can provide you with content creation services with experts.
There are various kinds of visual content available nowadays. Here we will get to know some of them. Let's dig deeper.
Video Content:
Everyone can understand how well a video can convey your core message. While using it as a way of effective communication, you can use videos like motion content too.
For the last few years, the importance of making more video format content is growing. The audience likes to interact with the content creator. Therefore, video is growing its demand day by day.
As a result, these days, video content can grab more attention from viewers and make your brand more visible to the audience.
When you will look for the Best SEO Service Provider or the Best SEO Company for your content marketing purpose, you can ask them to produce more visual content.
For this purpose, you can contact Vxplore Technologies and get help.
Using more Infographics:
If you have content that needs to add more statistics reports included in it or you want to use a survey report, use Infographics. These days, using Infographics is a trend in content creation.
Whether you use a more data-driven blog post on your website or share a specific survey report for a specific topic, you can use Infographics. This helps the audience to understand the given information in a more detailed way.
You can collect the necessary data and information from different websites and then make useful Infographics. You can do it yourself or if you face any problem, you can hire an SEO Development Company in India.
Using Data Visualization for your Website:
When it comes to creating content that is in such a format that could help your audience to communicate easily, use visuals. If you can use the data visualization technique, then your users will get in touch more with your core message.
Earlier we said that it is important to incorporate infographics with your content. Additionally, you can also use diagrams, survey reports, and charts for this purpose.
But, apart from these types of content, it is also necessary to use data visualization techniques for your blog posts. This is why you need to create data that will be presented in a visual format.
They will help to engage your customers more with the content as well as your business service.
If you need help in creating visual content, hire an SEO Services Agency. You can contact Vxplore Technologies which is a famous company in Kolkata.