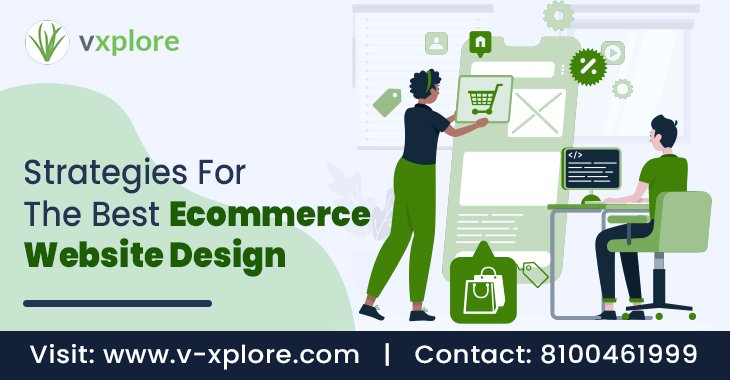 The right website design is essential because it makes the purchase journey smooth and easier. The design elements of your e-commerce website must depend on easy navigation. It has proven that nearly one-fifth of customers abandon a cart just because of difficulties in the design of a website. So, an eCommerce website can help you build a brand, from where customers want to purchase again and again. We offer the best eCommerce website services for your business, where everything is maintained perfectly.
Design strategies to boost conversion:
Here, you will know the best design strategies that will improve the conversion rate. The best thing for you would be to hire an experienced eCommerce development company for your business. They are experts in the field and know how to develop your website for your business.
Introduce visual hierarchy:
The visual hierarchy will help your customers digest content quickly. Organize your web pages perfectly to reduce the bounce rate of your website. Some important components of visual elements of your website are – business name, UVP, logo, and CTAs. The placement of these elements on your website and the fonts you use are important aspects to consider. An experienced eCommerce website developer concentrates on this factor really well.
Show products on the landing page:
Your landing page should be engaging, which has enough potential to lead your customers to explore more things on your website. Design your landing page with the details about what they are going to get on your website. You can show products on the landing page or use videos to attract your customers' attention.
A search bar on each page:
Placing a search bar on each page of your website will improve the usability of your site and reduce the abandonment rate also. It helps your customers explore your eCommerce store further.
Easily readable content:
You may have great content on your website, but it stays unexplored if there is a readability use. This is why you must pay extra care while choosing the type of font, the size, color, and more, which will make content readable.
Hire the best eCommerce development services for your business. Professionals will handle these things better than you do. A website designer knows how to design a layout of a page. You cannot learn these things by watching a few videos and more.
Add a FAQ page:
A FAQ page plays a significant role in answering the queries of your customers. Sometimes, customers need support about their product before their purchase. FAQ pages will guide your customers rightly.
Branding is a must thing:
Let your customers know about your brand through a constant branding strategy. You can keep the colour scheme the same for your website as you used in your company's logo. A visitor can relate to these things more easily.
Mobile audiences:
People use their mobile devices more to get information or buy products. So, you need to ensure that your website is well optimized for tablets and smartphones.
Consult with Vxplore Technologies for designing and developing your eCommerce website. We are a renowned eCommerce development company, and we help many businesses to establish a brand name. please contact us to know more.