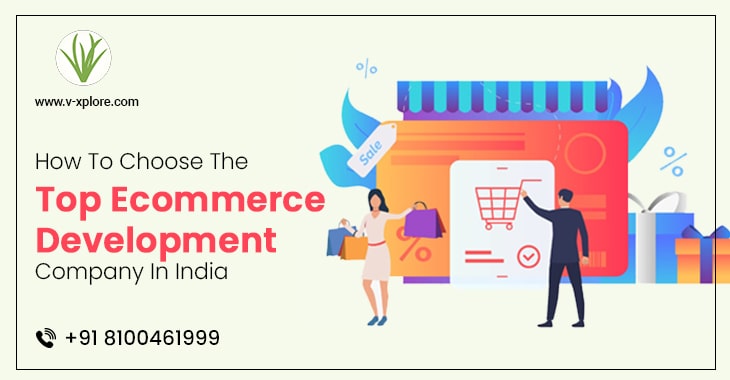 It's not easy to find the top Ecommerce Website Development Company. Even if thousands of businesses provide web design and development services, choosing the finest one still involves carefully considering a few crucial factors. The most crucial thing to remember is that you are not looking for just any company but rather one with experience in ecommerce that best meets the requirements of your project. Narrowing your focus and having a history of successful implementations behind you are the keys to success. If you want the best Ecommerce Development Company India, contact Vxplore Technologies, Kolkata.
We have years of experience and expertise to provide top-notch ecommerce development services at affordable prices. Our developers have a sound knowledge of ecommerce development and can help your business to have an attractive and functional ecommerce website. But before choosing the best Ecommerce Development Company India, you must consider some essential factors.
Let's have a look them these factors:-
Portfolio
Expert professionals
Feedback from Actual Customers
Customisation
Added Features
Quality and Cost
Portfolio:
The company's portfolio should be your first point of inquiry. You can learn a lot from going through the portfolio section. Looking through the company's portfolio, you may get a decent idea of the agency's ability. The projects the company has worked on, however, can represent the capability of the company to deliver the projects.
Expert professionals:
It is important to have proper resources to handle an ecommerce development project. It would be best if you always look for the expertise and dedication of a company's developers to ensure the compilation of a project. If you want the best Ecommerce Website Services In India, you must go for reliable and dedicated professionals from Vxplore, Kolkata.
Feedback from Actual Customers:
You can find feedback and reviews of e-commerce website development companies. You may choose the best service providers by reading customer reviews. One can look into the company's reputation if there are any persistent issues with managing projects.
Clutch reviews are a great source of reliable, unbiased customer feedback if you want to decide which development company to work with. You can also ask for references. This way, you can gain from their expertise about their present and previous clients, and you'll be more equipped to decide whether you want to collaborate with them.
Customisation:
Selecting the Ecommerce Website Development Company that can offer specialised solutions to suit your particular requirements is crucial because every e-commerce platform has different needs.
Added Features:
If you're building an e-commerce website, you should have a long-term perspective. As a result, you want to consider a company that offers more services than a typical development team. To assist your website in achieving its maximum potential, ensure the company includes UX specialists, visual designers, and SEO specialists. You won't need to coordinate with multiple specialists who are dispersed across the world in this method. Need help with it? Contact Vxplore, Kolkata, now.
Quality and Cost:
It makes sense that you will want to negotiate the best price. But if you go with a reasonably priced provider, you risk getting a product of worse quality. Concentrating only on price may be more expensive in the long term. What if you can get quality Ecommerce Website Services In India and reasonable prices? Yes, it is possible with one of the leading Ecommerce Development Company India, Vxplore Technologies.
Final words
Hiring the Ecommerce Development Company India for a unique and professional ecommerce website is crucial. The factors mentioned above can help you choose the best one for your business. If you want Vxplore to help you, please feel free to reach us today.