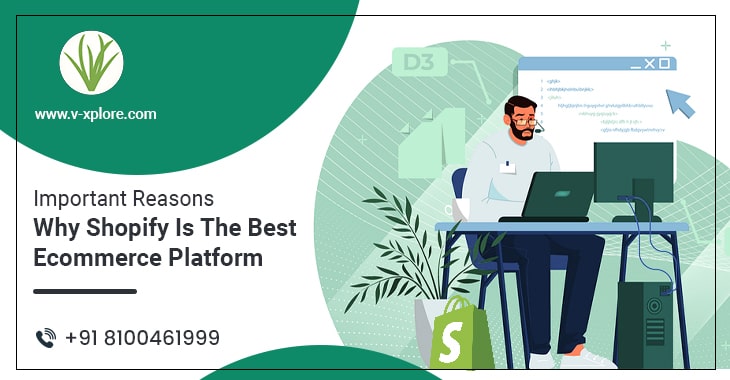 Due to the rapid development of the Internet and technology, there are gradually fewer barriers for both buyers and sellers to participate in the eCommerce sector. It's exciting to consider the unlimited possibilities that exist. The convenience of online purchasing is challenging to deny. Additionally, thanks to numerous eCommerce systems, anyone may easily set up an online store from the seller's standpoint. On the market, there are multiple different eCommerce platforms. However, out of all of these systems, Shopify is one that every firm first and foremost considers when deciding on the finest eCommerce platform. Shopify provides a complete solution for building an eCommerce website. It makes it possible to sell almost everywhere by integrating local languages, allowing you to easily create various pages using an online editor built-in and offering support and customization for online stores. If you want the best Shopify Expert In India, choose Vxplore Technologies, Kolkata. We are a renowned Shopify Agency that can provide the best solution for your business.
Most Shopify experts consider it to be the top eCommerce platform available. But what makes Shopify so outstanding? The Shopify Expert professionals in Vxplore would like to highlight a few convincing reasons.
Let's have a look:-
More flexible than alternative systems
An app-rich platform
Compatible with every major browser
Plenty of themes to explore
Multi-currency payment gateways
More flexible than alternative systems:
Alternative e-commerce platforms have the primary flaw in that you need more control over how your store will appear. The look and feel of your website cannot be changed to reflect your brand, and it could be terrible for many businesses since it is a novel way to separate from the competition. Using Shopify as your eCommerce platform, you may create a unique online store where you can market your products or services however you want. Shopify provides more customization options as compared to other platforms. For instance, Shopify offers free (with some limitations) access to third-party apps and themes. You can use a custom domain for your store instead of the standard URL your hosting company provides.
An app-rich platform:
There are numerous powerful and useful apps available on Shopify. As a result, it is the best option for anyone running an eCommerce business. As Shopify's network of apps offers all the features and services needed for online businesses, customers are falling increasingly in love with it. Shopify offers applications like management, marketing, and sales-boosting solutions that can expand your business. Want to hire the best Shopify Agency in Kolkata? Contact Vxplore today.
Compatible with every major browser:
Customers can view your products on the popular browser of their choice because Shopify is compatible with all of them. The platform supports all widely used browsers, including Google Chrome, Mozilla Firefox, Microsoft Edge, and Safari.
Plenty of themes to explore:
There are countless themes available for you to choose from when building your Shopify site. There is probably one that meets your needs among the many distinct layouts and functionalities available as free and paid options. You can find all the available themes on Shopify or the Envato Market platforms. Are you looking for the best Shopify Expert In India for your project? Call us today.
Multi-currency payment gateways:
With a Shopify store, you may accept various payment ways without using additional third-party software to direct transactions to your bank. This e-commerce platform agrees with all popular payment options, including debit and credit cards, PayPal, Amazon Pay, and Bitcoin.
Shopify's built-in multi-currency mechanism allows your store to take payments in almost any currency worldwide. Wondering where to find the best Shopify Expert? Reach to Vxplore, Kolkata.
Closing Words
The best hosting solution to sell your products online is Shopify. If you want to start your online store, contact Vxplore Technologies, the best Shopify Agency in Kolkata.