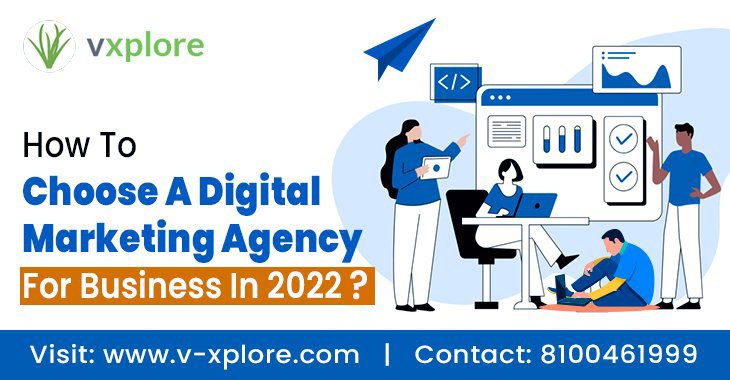 As the importance of digital marketing is growing, there is growing the need to hire a famous Digital Marketing Agency for your business. Here we will discuss that.
Gone are the days when a business needed to focus only on its local audience and expanding the business to its audience with their local network only. Now, in order to run a business successfully, you need to excel in the digital marketing field too. With the passing years, digital marketing is becoming a top priority when it comes to grow a business online. For this purpose, many people want to hire professionals from Digital Marketing Service providers.
If you are planning to do so, you can connect to Vxplore Technologies. They use the best SEO strategies and they can help to boost your brand's online presence too.
Here we have some best tips for you in order to help you in choosing the best Digital Marketing Agency for your business. Let's know them below.
Determine first your company's needs:
When you will start the search for the right Digital Marketing Company for your business, you need to determine at first that what the basic marketing needs are that your company wants.
For doing so, you need to prepare some questions to ask the service provider. You can ask them the following questions too:
What is the main goal that you want to achieve with the digital marketing agency?
How much do you want to invest for this purpose?
What are the main areas in marketing where you are aiming at to be successful?
Is there any proper goal for my marketing team that I can share with them?
So, at first, you need to understand the answers well. Then, find out the options where you can get the answers as their service. After that, you can select the best agency among them all.
If you are searching for the Best Digital Marketing Company in India, try to contact with Vxplore Technologies to get help in digital marketing.
Finding the best company for the business:
Now, you must be wondering about how can I choose the best one among all the other available options? Worry not. Here are some pointers that you can use while your search.
At first, get an assessment on their service, their implied strategies, and most importantly, what are the packages that they are offering to you.
Now, think about the results that you find when you searched about the above points. Go through them carefully, and if you need to ask them again, do that.
But make sure that the agency is giving you all the details you are asking them. Finally, you can choose which one is the best for your business.
Doing the research well:
However, before proceeding to the right Digital Marketing Service provider for your business, it is also vital to perform a research on their past histories and check their background.
Search for the answers:
Is the company able to reach their goal?
Do they use the latest trends for service?
Do they use fair practices as the work ethics?
How is the past work record of their service?
In order to choose the best agency for your company, find these answers properly. Rather, give more time for this purpose.
Get help from Vxplore Technologies, a famous Digital Marketing Service agency in Kolkata. Contact to know more.