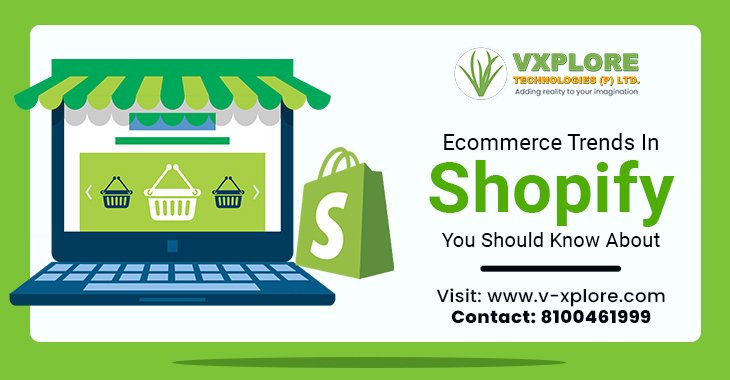 Vxplore Technologies is a reputed Shopify developer company in Kolkata, India. Our Shopify expert gives you tips about eCommerce trends of Shopify.
Have complete knowledge about ecommerce trends:
The expert Shopify developer of Vxplore Technologies in Kolkata, India believes that you need to know the recent trends in Shopify ecommerce to be able to communicate well with your clients. The world is changing fast and we should keep up with its speed.
So, our Shopify expert in India has written this blog to give you an idea about what you should focus on for your Shopify online store. With the customers changing their shopping patterns, every business should pay good attention to the greatest trends in online shopping, says our Shopify developer in Kolkata.
The ecommerce trends you should know about:
As studied by our Shopify expert, here are some trends you need to take note of.
The importance of brand
Growth of mCommerce or mobile commerce
Shopping through live media
Environmental sustainability
Loyalty programs
The connection with social commerce
The importance of brand:
Our Shopify expert says that if you are not allocating enough budget to build your brand name, you are not going in the right direction. You should never sacrifice on building your brand and give it enough value.
Vxplore Technologies, a reputed Shopify developer in Kolkata, believes that customers think about the brand while making a purchase. So, your brand should have good recognition online as your target audience may be researching the web while making a decision.
Growth of mCommerce or mobile commerce:
The commercial activities that go on while using mobile devices is collectively called mCommerce or mobile commerce. It is one of the leading trends that you should know about.
The trends show that most customers purchase using mobile. So, you must take necessary actions regarding this. You can also contact our Shopify developer to make your Shopify online store mCommerce friendly.
Shopping through live media:
On social media channels, you may have seen that many sellers show their products online and buyers make their orders at the same time. This is shopping through live stream.
With this, buyers can ask questions and get the answers instantly. This helps them make well-informed decisions. They can also understand the reputability of the product.
Environmental sustainability:
People today are becoming more and more environmentally conscious. So, your business must offer the customers eco-friendly products. In fact, you can also build your brand expressing your sustainability by taking part in activities that are beneficial for nature. To know more about this, you may contact our expert Shopify developer in Kolkata.
Loyalty programs:
Instead of spending money on customer acquisition, many businesses are focusing on loyalty programs. This builds a long term relationship based on trust between your customers and you.
This helps in customer retention and also prompts word of mouth marketing. You can introduce free shipping, discounts, free gifts, etc. to build loyalty in your customers.
The connection with social commerce:
Selling on well known social media platforms like Facebook, Instagram, and TikTok, is a growing trend now. Many businesses customize their social media pages to reach out to a bigger customer base. In fact, social commerce helps you to get discovered.
Conclusion
Becoming a successful online business is not a joke. You need to know about many recent trends. So, you can contact Vxplore Technologies, a reputed Shopify developer in Kolkata, India to make the best decisions.