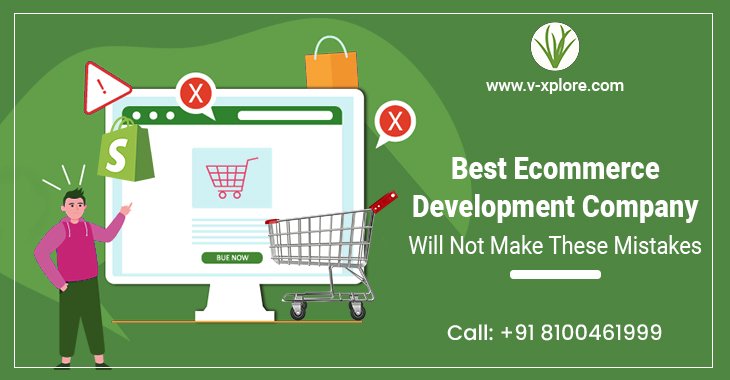 Search for "Ecommerce Development Company India." There will be numerous companies introducing themselves as Ecommerce Development Company. Still, if they make the following mistakes while developing a website, they are no good, say experts from Vxplore Technologies, the Best Ecommerce Development Company India.
These mistakes are what separates a website from a rookie to a website made by a professional team of specialists who have been developing websites for their clients, providing them satisfaction and value for their investment :
Low-Quality Images
The security that is no less than a joke
Unrelated Domain Name
Not Optimized for all devices
Not having a seamless checkout process
Low-Quality Images:
High-quality images in the website content are a must; first, it makes the content look more attractive; secondly, the audience will get hooked to the content, engaging themselves with the presence on the website. While experts from Vxplore Technologies, who have been delivering Ecommerce Development Services in India, contradict their point by saying low-quality images are better for a website's faster loading speed, but that comes at a cost to the customer's user experience. Therefore they suggest maintaining a balance.
The security that is no less than a joke:
Risking your customer's and company's essential details and credentials is a shame for a company. Customers want assurance about their privacy from the website they are doing business on. Jeopardizing a website's security will only result in fewer visitors; therefore, only hire an Ecommerce Development Company like Vxplore Technologies to ensure your privacy.
Unrelated Domain Name:
Domain Name should be short and appropriate according to the business. No business owner wants their customers to forget their business name constantly and get tired of visiting their website. Customers look for their convenience, which should be delivered to them for goodwill.
Not Optimized for all devices:
It's hard to find someone nowadays who is not a smartphone user. Recently, people use smartphones to access the internet and websites more than they use their computers. Keeping this in mind, the  Ecommerce Development Company should develop a website which is well optimized for different devices prioritizing mobile phones among them.
Vxplore Technologies, Ecommerce Development Services team discussed their findings; they said that the regular traffic from mobile phones on the websites was much more significant; this shows the need for website optimization for mobile screens else the business will be losing many users.
Not having a seamless checkout process:
The most important page of an Ecommerce website is the Checkout page; it's the payment gateway for customers; therefore, it should be simple and easy to navigate. The customer has already guided the products list and chose what he wants, which is a tough decision; the business can't expect the customer to also navigate through a complex checkout page layout.
Final Words:
If you want to develop an ecommerce website for your business, your best bet is to reach out to Vxplore Technologies, based in India; they will not disappoint.